CYCLING ACROSS AUSTRALIA
March 13 to June 25, 1998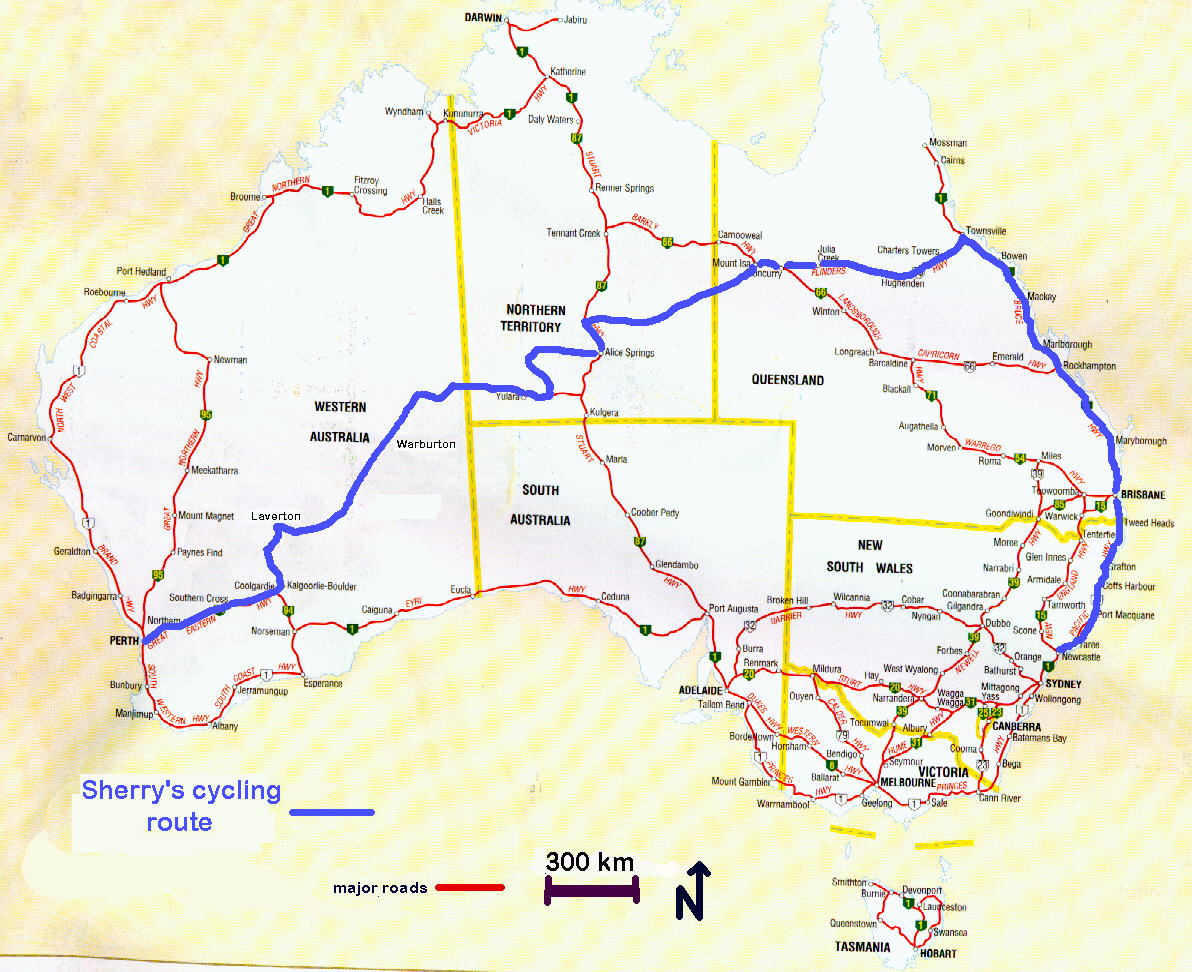 click for full size

Click here to go to slide show
This was my most well- planned trip, and I have included some planning advice in this section. The regular type is planning and route information. The indented type is stories about people I met along the way or other travel tales.
My itinerary:
March 13 - Arrived in Sydney in the morning, took train north to Newcastle, assembled bike outside of train station, and start riding north by afternoon.
April 3 - Arrived in Townsville, Queensland. Spent one week visiting with a friend who was living there.
April 19 - Arrived in Mt. Isa. After a false start due to weather, I head off on the Plenty Highway, the dirt road through remote cattle stations.
May 5 - Arrived Alice Springs. Take a few days off and pick up mail.
Rode to Ayer's Rock via West McDonnell range with time spent hiking and exploring the gorges in the area.
Crossed the remote western deserts. Passage through Aboriginal communities requires permits from the appropriate land councils.
June 16 - Arrived in Perth, Western Australia, 7000 kilometers later.
June 24, 1998 - Shipped bicycle, care of Australia Post, to the U.S.
December 20, 1999 - My bicycle arrived in the U.S.
Before leaving:
In the fall of 1994, I saw the movie Precilla, Queen of the Desert. There is a scene which takes place in the outback, presumeably somewhere between Sydney and Alice Springs. The photography is really well done and the picture alternates between close-ups of small reptilian beasts and the massive grandeur which is their kingdom. I suspect that it was this scene which planted the curiosity in me which could only be sated with this trip. What's it like to be in that place? I want to understand the distance, the realities. I want to, temporarily, be a part of that strange place.
The planning started in earnest about one year before I actually left. People always ask me why I travel by bicycle. I find it a difficult question to answer because it seems the most obvious way to go about it. Once you have pedaled it, then perhaps you can have some true understanding of the distance. Once you have survived in the desert, carrying your own water and food, then perhaps you will be privy, if only as an outsider, to the rhythms and realities of that place. So I can't tell you why I went by bike, and I can't imagine why anyone would do it differently.
The first step in planning a trip is figuring out where the money is going to come from. I did not have car or morgage payments or kids to support, so perhaps this was easier for me than for some other people. It took me about a year to save for this trip. I did not have a dollar amount, which, once saved, would indicate it was time to go. Rather, I decided on a leaving date based on seasons, saved every penny until then, and that's how much money I had to spend. I bought an around- the- world ticket with fixed dates and stops, but, in retrospect, would have been wise to simply buy needed plane tickets as I went. (I continued travelling after the Australia cycling trip and ended up changing several legs of the ticket.)
The next important step is to plan an approximate route or at least an origin and direction. I love planning trips and have planned lots of trips I will never take- it is a form of arm-chair travel. So I generally plan out a detailed route for the fun of it, without any committment to stick to that route. Some key things to consider are prevailing wind direction and road surface. These things make a really big difference in how fast you will move, and by extension how much water you need to be able to carry. You should also have an idea of how remote the place you are going is. That is how self-reliant you will emerge, and the test you will be put to.
The route:
Part I: Sydney to Townsville
In the case of this trip, what was driving me was the dream of crossing the remote western deserts. But starting there would be unwise, rather, it was more like my finale. I had to start with something easier, if less fulfilling, and work up to it. I started in Sydney and spent three weeks riding north along the east coast. I figured this would give me a chance to get used to the new country, allow my body to adjust to a change of hemisphere, and generally get into the swing of things, in the populated southeastern corner of the country. This area has lots of people and bike shops and youth hostels and cities, I even had two routes suggested from guide books I'd found. I realized the first week that my tent was leaking (despite having just resealed all of the seams) and that I was going to have to buy a new one. I was able to buy a suitable one the next day. This was my least favorite part of the trip, but it was important.
One afternoon, a few days before arriving in Townsville, I was stopped at a road-side rest area. This area is officialy tropics, and even their mild winter had yet to come. The humid heat, in stark contrast to the oustback, meant that sweating was only mildly effective in cooling down the body. It was hot. At the rest area I wetted my head and face in the sink and was resting in the shade cast by the restrooms. A woman started up a conversation with me. Her daughter, around my age, had done quite a bit of travelling in other countries. She wanted to offer me all the things she hoped peole offered her daughter when travelling. She repeatedly offered me a ride to McKay, the town 30 miles on which we were both headed to. When I declined she insisted that I take her card and feel free to call me if anything should go wrong or if I should need some help while in the area. Her manner was friendly and her tone genuine. I still remember the business card, promoting her small business making custom lingerie.
Part II: Townsville to Mt. Isa
After taking a week off to visit with a friend living in Townsville, (Click to see photo) I embarked on the second leg of the journey. The stretch from Townsville to Mt. Isa was paved, and with towns passed everyday, but the climate and environment were outback. It gave me a chance to adjust to the realities of riding in the outback. A chance to see if I could be covered with hundreds of bush flies whenever stationary without losing my mind. For the last couple of days, I decided to practice carrying the maximum amount of water I would need to carry- 20 liters- just to make sure that I could, before going to more remote areas. This turned out to be a very good idea. After two miserable days of repeated rear flats, I finally figured out what tire pressure (real low) I needed to have in my rear tire to avoid getting a flat with that amount of weight on the back. Having spent all of my patches and spare tubes, I was forced to hitchhike the last fifty miles into Mt. Isa. Once there, I bought new, wider, tires, which were more appropriate for the low pressure. The bike shop in Mt. Isa was not real well stocked, but the owners were kind enough to allow me to use their shop tools. I filed out the valve stem holes on my rims to accommodate schrader tubes- the only kind they had.
One of the towns between Townsville and Mt. Isa is Richmond. I was having a good day when I pulled into this small pleasant town and decided to spend a few hours there. I started out in the small museum in town. The volunteer on duty was an elderly gentleman who took at least an hour to give me a personalized tour. Some of the fossils he had found himself. He had lived his whole life in that area and knew it well, including the good places to find fossils. The entire area was at one time an inland sea, and aparently there were conditions which were ideal for fossilization. A largely complete dinosaur skeleton had been found there. He joked about being sore that Harvard had gotten to take this prize fossil. He shared stories about the area and jokes, and it was a very enjoyable hour. He repeatedly offered that I spend the evening and night with him and his wife on the cattle station they still lived on, and seemed sad when I declined. I just didn't see how I could accept a dinner invitation at a cattle station and then tell them I was a vegetarian. It seemed somehow insulting, so I declined. After visiting the museum I stopped in at a little store in town seeking out one of those excellent Australian hats. There were four women in there and I spent about a half hour talking with them. They had all lived in Richmond for many generations. They were curious about my trip but their voices were tempered by the tone that most mothers get when learning about my travels. They were as concerned for my mother as for me and felt that my trip must require at least as much of her as of me. By the end they had sent me off with a pre-addressed envelope to them, and a promise for a letter upon the completion of my travels in Australia. Several days latter one of these women was driving to Mt. Isa and saw me on the road. She stopped to see how I was doing- a familiar face!
Part III: Mt. Isa to Alice Springs
Leg three of the journey was on the Plenty highway. This was a dirt road through cattle stations (ranches). It was quite a bit more remote than where I'd been, but I would still be passing by at least one station a day. There was also one small town, Urandangi, with a population of about 20, on that road. This leg gave me a chance to see how I would do on the dirt roads, and I did decide to pick up a few items at a bike shop in Alice Springs.
Before leaving for the trip I told friends to send me mail, (this was before I had an email address..) care of poste restante, in Alice Springs. As luck would have it, it was a legal holiday the day I arrived in Alice Springs and the post office was closed. But I was able to pick up my mail and packages the next day.
From the minute I pulled into Alice I decided I liked the place. In general, my impressions of places I visit when travelling are dictated by my mood when I arrive, which in turn is dictated by such things as the weather, and the road surface quality. As I pulled into Alice, there was a festival atmosphere, as celebrations for May day were underway. I passed by a field where a group of people my age, from neighboring Papua New Guinea, sporting baseball caps and electric guitars, were playing Jesus rock. The listeners assembled didn't particularly seem to care what the music was about and were enjoying various ecclectic, self-absorbed dancing styles. Like many towns with sizable Aboriginal populations, the wide dry riverbead through Alice was the public meeting place for this community. Quite by accident, when I was in Mt. Isa, I had stumbled upon such a meeting place. Feeling as though I was an intruder, I turned to leave the area. But a group of people who had seen me were quick to let me know I was welcome and in curiosity we exchanged stories. Drinking is one of the activites that goes on in these river beads, and alcoholism is a major problem among the Aborigines, as it is amoung displaced and subjugated people everywhere, but drinking is by no means the only reason people gathered in these places. It served as a communtiy center or meeting place. At least that was my impression from my brief view.
In Alice Springs I visited the offices of the two Aboriginal land councils which I needed permits from to continue my journey west. I had arranged for these permits before leaving the States and in one case had to change my propsed route slightly in order to obtain the permit.
When I arrived at the office of the Ngatyatjarra council the young woman at the counter wasn't able to find the permit and got another woman, who seemed to be the manager of the office. This second woman was excited to see me and had been eagerly awaiting my arrival. She was enthusiastic about my trip and was excited that I was seeing the outback at it's best. The rain had been heavier that usual and everything was in bloom and green. She was excited that I was going to go via King's Canyon and thought I would be able to obtain the needed third permit for the Mereenie loop en route. She offered to spend her day off driving me to King's Canyon herself. It is hard for me to explain what a boon it is when I meet someone so enthusiastic about my travels. At the end of my trip I sent her a five page letter detailing my time in the places she had so excitedly told me about.
Part IV: Alice to Ayer's rock (Ulara)
From Alice I headed west through the West McDonnell range. This turned out to be the highlight of the trip, and perhaps one of the highlights of my life. Everything we experience in life is through the lens of our mental state. At this point I had been on the road for two months, and I was finally at a point where I could truely experience and enjoy the place I was, I could truely be in the present. I had finally let go of my attachments to everything convenient and habitual that I had left. I had quit my job, put my stuff in storage, given up my rental, and left a place I had been living for 7 years. During the first weeks of my trip I had doubted the wisdom of this. Minus the comfort of the pattern I had created for myself in my settled life, I was at a loss. But by the time I reached the West McDonnells, I no longer needed each day to be the same, in fact the idea seemed rather boring. Each day was an adventure, you never know what it might offer or require.
The area is dotted by deep gorges. These are places where ancient rivers cut through the red rock forming chasms, up to 100 feet deep. Each is different. The water is cool as the sun only reaches it for a few minutes each day. The West McDonnells do not get alot of visitors. Most tourists fly into Alice Springs, take the direct paved route to Ayer's Rock, and miss this area all together.
I spent some time visiting each of the gorges in this park. There are hiking opportunities at most and several times I left my bike hidden or with consessionaires to spend the day hiking and the night camped out. Black-footed Rock Wallabies are ubiquitous and accustomed to human presence. They bounce gracefully along seemingly vertical rock cliffs. They look a bit like kangaroos, only smaller and with longer tails.
The last gorge on this road is called Redbank Gorge. The access road to it is marked for 4WD only and is mostly rock and sand. It gets the least visitors of any of the gorges. I had read that it was possible to swim/ hike up the river for quite a distance, with the walls of the chasm continuing for over a kilometer. But a wetsuit is recommended due to water temperature. When I got there I had the place to myself. There is a small pool at the entrance to the gorge. I put on my swim suit, shorts with candy bar in the zippered pocket, and my cycling sandals. I took one of the 4 liter sacks that I used to carry water and filled it half with water and half with air. I never went for more than a few minutes without drinking water, and it seemed a good idea to have something bouyant in case I overestimated my ability to deal with the water temperature. I put the straps on my shoulders so the sack was on my chest, and swam through the pool to the gorge. I almost didn't put this story in this web site because I knew that solidifying the experience in words would belittle it. The next 20 minutes changed me. Perhaps being in complete awe of something allows us a respite from the pettiness of the ego.
The water was very cold. I continued up the river, alternately swimming in the widened pools and clambering up the boulders that separated these rooms. I remember seeing and listening to a frog hidden in the rocks. I remember reverently appreciating the acoustics of these passages. The walls in most places were smooth from millenia of turbid water rushing past in seasonal cyclisity. I was trying to swim as ineffeciently as possible, hoping for the heat by- product of the muscular effort, but after a while I grudgingly admitted it was time to turn around as my body temperature was dropping.
Ayer's Rock (Ulara is the Aboriginal name) has a huge tourist draw, it's Australia's grand Canyon. Under court order, it has been under joint management of the National Park service and the two local Aboriginal groups. This approach to public stewardship struck me as difficult and worthwhile. It is an example we could all learn from, although they still have work to do in reconciling different missions and views.
I visited the cultural center at Ulara. This was analagous to the visitor's center that a park service might run, and it was run by the Aboriginal groups who were a part of the joint management agreement. It sought to teach visitors about the original context. It is Aboriginal custom to not desecrate a sacred place by taking photos of it. This removes the place from it's appropriate context. It also allows you to substitute the proxy of photo- taking for the more valueable experience of really being there. This struck me as valueable and I decided to take no more photos of Ulara and to try and experience the place in a different way. I spent the day walking around the perimeter of it and stopping in various places along the way to sit and write in my journal to record my experience. That night I camped in an illegal spot right next to the rock, so probably I'm a complete hipocryte.
Part V: Ayer's rock to Laverton
Part VI: Laverton to Perth